Borderless Care Delivery – Anywhere, Anytime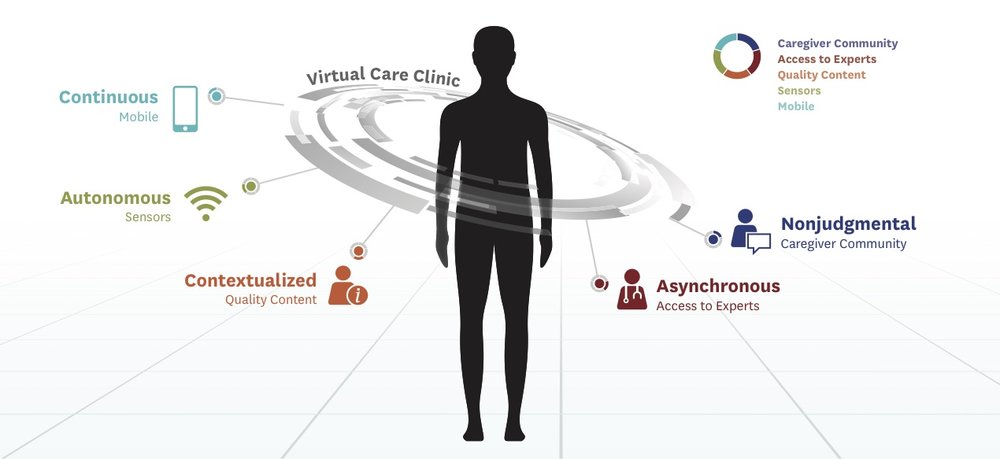 When we announced our Virtual Care Clinic (VCC) concept in 2016, many thought it was the next step in telemedicine. Well, this is not your daddy's telemedicine. The Virtual Care Clinic is literally the dawn of a new era of health care delivery that finally embraces the true promise of digital health. With the VCC, patients are in the driver's seat of their own health outcomes.
The cornerstone of the VCC is the smartphone which offers seamless, continuous, on-demand access to Keck Medicine of USC medical experts via an app called "Doc On." The app actually connects patients to their doctors – their virtual doctor using an avatar of the real-life counterpart. The virtual docs are infused with artificial intelligence programmed by the USC Institute of Creative Technologies to answer thousands of questions on any given medical diagnosis.
From the comfort and calm of your living room couch or from a conference half way across the world in Dubai, you can ask the virtual doctor all the questions you wanted to ask your doctor face-to-face. No judgment. No cost. Just expert information when you need it.
But that is just the beginning…
The USC Center for Body Computing put together an holistic ecosystem for its Virtual Care Clinic by gathering eight foundational partners to provide a comprehensive support system to patients and their family caregivers.
The partners bring digitized medicine, virtual reality (VR), comprehensive data delivered from peer-reviewed clinical trials and full-text articles on the patient's diagnosis, intensive mHealth app evaluation and classification, the industry's only end-to-end platform for building HIPAA compliant healthcare applications, beautiful medicine design, innovative wearable solutions and digital storytelling from Emmy Award-winning videographers. Read below about our VCC partners:
USC Institute for Creative Technologies (ICT)

 

– World renowned for its virtual humans, artificial intelligence (AI), virtual reality (VR), graphics and narrative breakthroughs, especially in health and education work with the U.S. Department of Defense (DoD), ICT is the creator of the VCC's "Virtual Doctors," a staff of engaging characters based on the internationally recognized experts of USC medical care providers for on-demand, patient-doctor interaction.
Doctor Evidence

 

– Providing the most comprehensive data delivered from peer-reviewed clinical trials/full-text articles and published medical evidence from other peer-reviewed datasets on disease treatments and outcomes, including drug labels and epidemiology databases. This patient profile guided content is delivered in an anytime, anywhere and any medical literacy level fashion for a best-in-class precision medicine source of truth in the hands of each patient.
IMS Health

 

– IMS Health AppScript™ is the leading discovery and distribution platform for mobile health technologies.  The AppScript Software-as-a-Service solution classifies and evaluates each mhealth app using a sophisticated AppScript scoring algorithm comprising six primary areas of focus including: Professional, Patient, Functional, Endorsement, Developer and Clinical Assessments. Additionally, AppScript enables healthcare professionals to securely prescribe, reconcile and track app use by patients from any mobile interface.
Karten Design

 

– Part of embracing the consumerization of health care is to deliver information, services and products that engage and empower patients. Known for its "medicine made beautiful" mantra, Karten Design takes a holistic, experiential approach to medical device and digital health design.
Medable Inc.

 

– Medable is the leading cloud platform and the industry's only end-to-end platform for building HIPAA compliant healthcare applications with robust analytics capabilities. There are many barriers to building web and mobile applications for healthcare. Medable removes the barriers by providing a game changing platform where developers can rapidly build scalable, reliable, HIPAA compliant healthcare applications. Medable services the rapidly growing application needs of the device, pharmaceutical, payer, provider, and digital health startup industries. Medable is powering a future where there is an application for every drug, disease, device, and discovery. Using Medable, innovative healthcare companies build apps that improve the lives of patients today while building the data sets to change the healthcare of tomorrow.
Planet Grande

 

– Located in Malibu down the coast highway from L.A.'s film and TV community, this Emmy Award-winning video creator infuses the best of Hollywood storytelling and engagement into information to help patients become heroes of their own health stories.
Proteus Digital Health

 

– A leader in Digital Medicine, Proteus utilizes sensor-enabled pills and a small wearable patch that unlocks comprehensive data about medication adherence and clinical effectiveness, empowers meaningful conversations between patients and caregivers, and delivers actionable insights about entire health care populations. The innovative "Medicines as a Service" approach provides patients with a digital hook that drives patient activation.
VSP Global

 

– VSP Global and its innovation lab, The Shop cover 77 million lives and develop eyewear for over 30 well-known brands. As a unique partner, VSP Global is both a payer disrupting high quality vision care and a fashion-focused consumer marketing powerhouse. VSP Global will launch the company's first smartglasses with a sensor embedded in the eyeglass frame, LevelTM, after its design and user engagement research conducted with USC CBC.
Read more on our Partners page.